Painted in hues of green by mother nature, Munnar is an idyllic hill station in the Idukki district of Kerala, 'God's Own Country'. The scenic landscape of the town comprises rolling hills carpeted in emerald-green tea and spice plantations. Set at a height of around 6000 feet, the undulating expanse of greenery is surrounded by mist and a soothing aroma. People visiting Munnar from Mysore can book a Mysore to Munnar Car Rental and enjoy a scenic drive.
Floating clouds add charm to the dreamy ambiance of Munnar, which is fondly referred to as 'Kashmir of South India'. The lush forests of the region are home to a wide variety of rare and endangered species of flora and fauna. The Eravikulam National Park, Chinnar Wildlife Sanctuary, and Salim Ali Bird Sanctuary are the spots to explore the local wildlife and vegetation.
The picturesque beauty of Munnar attracts nature lovers and photographers from across the globe. Echo Point, Photo Point, Pothamedu View Point, and Chokramudi Peak are few important vantage points across Munnar. Adventure lovers can enjoy hiking, trekking, rock climbing, camping, paragliding, and other thrilling activities at Anamudi Peak, Meesapulimala, and Chokramudi Peak. Valara Waterfalls, Mattupetty Dam, Rose Garden, and Blossom Park are among the most prominent sightseeing places in Munnar.
You can opt to stay in exotic treehouses, forest camps, lodges amidst the wild and luxuriant homestays to take your experience a notch higher. Tea lovers can take guided tours at the plantations and discover the traditional and modern processes of growing and curing tea. The pleasant weather and refreshing vistas make your visit to the town worthwhile.
The distance between Mysore and Munnar is around 327 kilometers. It takes around 9.5 hours to drive to the town. The route is flanked by verdant hills and picturesque scenery. You can even stop over for a jungle safari at Masinagudi on your way with Mysore Wheels.
---
Hire a cab with Mysore Wheels to best experience the picturesque beauty of Munnar. One of the best car rental companies in Mysore, our wide fleet of rental vehicles presents you with unlimited choices which include the below options:
Your Car Rental Options from Mysore to Munnar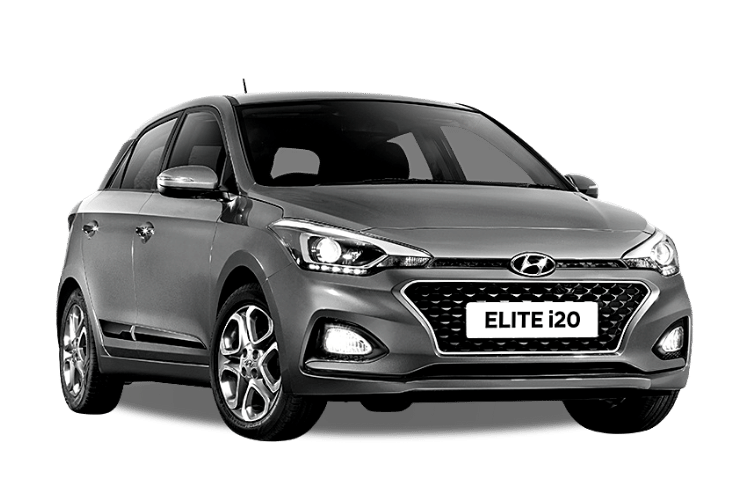 HatchBack
Book a hatchback from Mysore Wheels for an economical ride to Munnar and take advantage of the small body of the car to fit into parking spaces. The drive to Munnar comes with a lot of traffic and narrow lanes and with a small car it would be easier to reach your destination faster.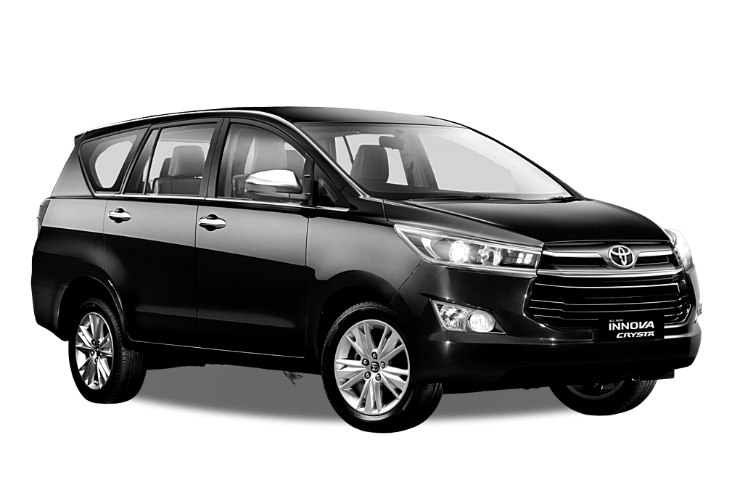 Toyota Innova
Hire a Toyota Innova from Mysore Wheels to explore the scenic landscape of Munnar when travelling with your large group of friends or family members. With enough leg and boot space for all your companions, an Innova is ideal for a long trip with your gang of friends where you can carry all your essentials.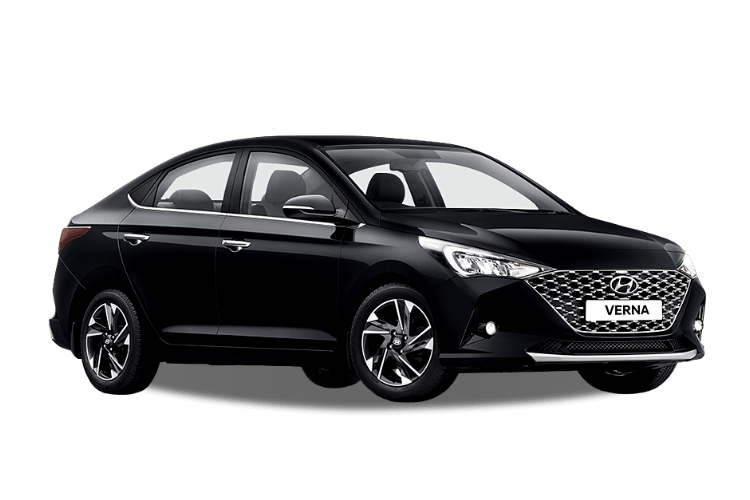 Sedan
Sedans are great for those looking for extra comforts on longer road trips and plenty of passenger and luggage space. Rent a sedan from Mysore to Munnar car rental service and have a relaxed trip to this enchanting hill station. Also it is a much more economical option than an SUV without compromising on comfort.
---
SUV
Hire an SUV rental from Mysore to Munnar rent a car service for family travel as it comes with ample leg and luggage room. The long journey to Munnar can be tiresome but with an SUV you can have a comfortable drive as it comes with excellent features. Also, an SUV adds glamour to your Munnar trip with its luxurious interiors.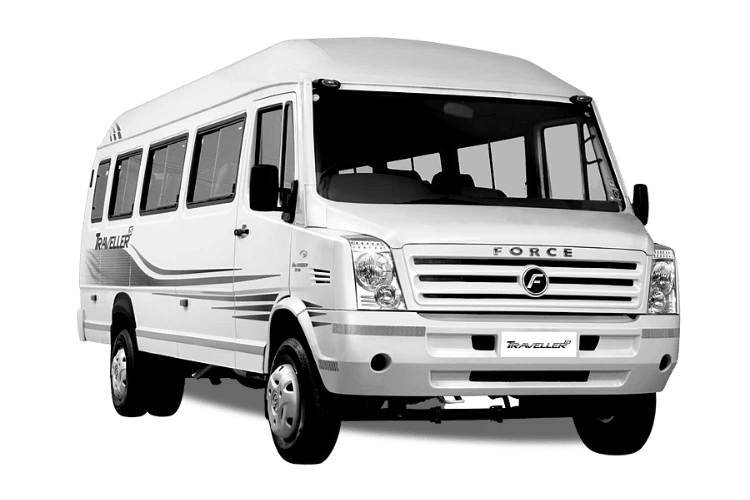 Tempo Traveller
Perfect for those with more travel companions, a Tempo Traveller from Mysore Wheels gives you freedom to have a fun filled group tour. A Tempo Traveller lets you include all your friends for your Munnar trip and still have space for ample luggage. Also, it saves money as all would be travelling together.
Mini Bus
Rent a minibus from Mysore to Munnar car rental service so that no one gets left behind on your road trip to the idyllic hill station. A Mini bus adds fun to your trip as all your friends will be travelling together in one big vehicle. Also, you can save big on fuel and time with a Mini Bus rental.
What to expect with Mysore Wheels
Pickup from any location in Mysore
No hidden fees in your Mysore to Munnar car rental fare
Affordable prices along with break up of charges in detail
Any additional charges and night charges applicable will be mentioned in the itinerary
Vehicles in top condition
Friendly and Reliable customer service
Well trained and well mannered drivers
Flexibility in operating hours
Why book with Us?
Choose from our wide fleet of vehicle options in Mysore
Online booking option available
No cancellation fee up to 48 hrs
Easy to book Mysore to Munnar Car Rental service
Round the clock customer support
Price / Tariff / Packages
Two Days Mysore to Munnar Car Rental Package
| Vehicle Option | Duration | Kms Included | Package Cost |
| --- | --- | --- | --- |
| Tata Indica | 2 Days | 750 km | ₹7950 |
| Swift Dzire | 2 Days | 750 km | ₹8700 |
| Toyota Etios | 2 Days | 750 km | ₹9450 |
| Chevrolet Tavera | 2 Days | 750 km | ₹10200 |
| Toyota Innova | 2 Days | 750 km | ₹11700 |
| Tempo Traveller (9 -12 Seater) | 2 Days | 750 km | ₹13200 |
| Tempo Traveller (13 – 14 Seater) | 2 Days | 750 km | ₹13950 |
| Mini Bus (18 – 20 Seater) | 2 Days | 750 km | ₹16500 |
| Bus (49 Seater) | 2 Days | 750 km | ₹ 30000 |
Mysore to Munnar
one day car rental package cost includes Driver Batta, Parking & Toll gate charges.
Multi Day Mysore to Munnar Car Rental Tariff
| Vehicle Option | Price / Km | Driver Bata |
| --- | --- | --- |
| Tata Indica | ₹ 9 | 250 |
| Swift Dzire | ₹ 10 | 250 |
| Toyota Etios | ₹ 11 | 250 |
| Chevrolet Tavera | ₹ 12 | 250 |
| Toyota Innova | ₹ 14 | 250 |
| Tempo Traveller (9 -12 Seater) | ₹ 16 | 350 |
| Tempo Traveller (13 – 14 Seater) | ₹ 17 | 350 |
| Mini Bus (18 – 20 Seater) | ₹ 28 | 400 |
| Bus (49 Seater) | ₹ 38 | 750 |
Driver Allowance / Bata listed is per day. Parking & Toll gate charges not included.
One Way / Drop Only Car Rental from Mysore to Munnar
| Vehicle Option | Seating Capacity | One Way Fare |
| --- | --- | --- |
| Hatchback | Tata Indica | 4 + 1 | ₹ 4500 |
| Sedan | Swift Dzire, Etios | 4 + 1 | ₹ 4900 |
| SUV / Toyota Innova | 7 + 1 | ₹ 6500 |
Mysore to Munnar
one way fare includes Driver Batta, Parking & Toll gate charges.
Quick Info
Mysore to Munnar Traffic Information
The shortest route from Mysore to Munnar is via Munnar – Udumalpet Road. The 2 lane road is in good condition but be cautious as you might come across monkeys. The road ahead of Udumalpet is narrow and traffic is sparse. Our well experienced chauffeurs from Mysore Wheels will ensure a smooth drive so that you can have a comfortable and relaxed trip to Munnar.
The alternate route is via SH38 and Munnar – Udumalpet Road, which is just 40 kilometers longer. You can cover it in approximately the same amount of time as the other one, i.e. 9.5 hours. The winding roads pass through the forest and you need the expertise to drive through them. There are chances of wild animals walking onto the road, so drive slowly and be careful. You can stopover at Lakkam Waterfalls for a quick picnic.
Another route is via NH948 and Munnar – Udumalpet Road. It takes around 10 hours to drive along this 370-kilometer stretch. You must drive cautiously on the stretch beyond Udumalpet as it is a forest highway. With our Mysore to Munnar car rental, we ensure a safe drive as our drivers are well versed with all safety rules.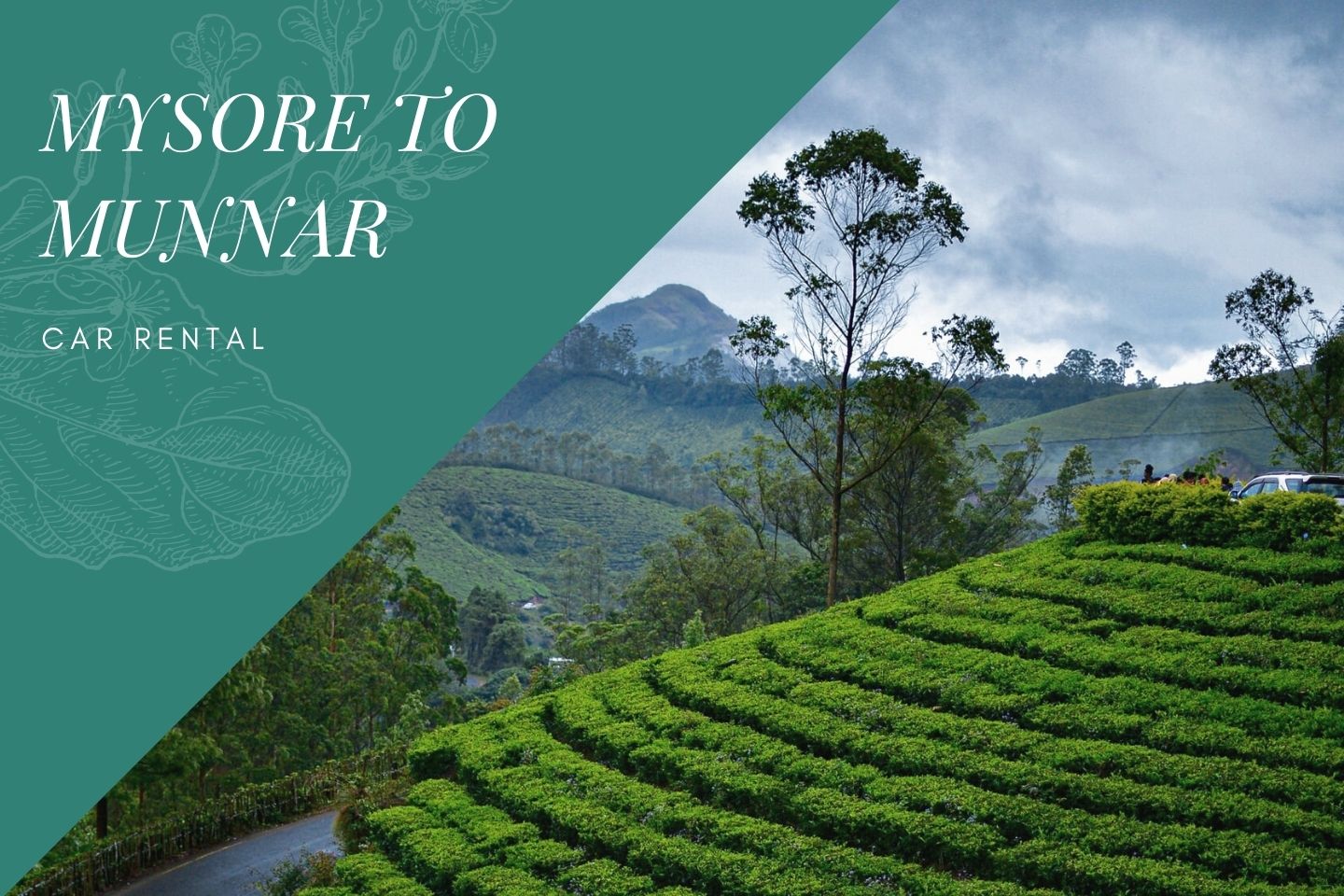 Sightseeing destinations in Munnar
1. Photo Point
The Photo Point is one of the most picturesque spots in Munnar. Popular among tourists and photographers, the point is perched atop the rolling Nilgiris embellished with the stretches of tea gardens. Floating clouds above the verdant tea estates add to the scenic beauty of the spot.
The gurgling of the brook and aroma of spices from the nearby spice plantations offers a treat to all your senses. You can capture the spectacular landscape of Photo Point as you walk uphill and enjoy the mesmerizing view of the undulated slopes and valleys. Photo Point is a must-visit sightseeing destination and a popular picnic spot in Munnar.
2. Atukkad Waterfalls
Atukkad Waterfalls is a vivacious waterfall located in the Idukki district of Kerala. It is among the most romantic getaways from Munnar. The cascading waterfall against the lush green surroundings makes it an ideal picnic spot to rejuvenate. You can enjoy swimming, camping, trekking, nature walks, and hiking at the waterfall. It is surrounded by plush resorts and homestays for a lavish vacation amidst woods.
3. Tata Tea Museum
The Tata Tea Museum located in Nallathanni Estate is among the most important tourist destinations in Munnar. Established in 2005, the museum is dedicated to the legacy of tea plantation workers. Tea lovers can enjoy tea tasting and witness the stages of tea processing.
The museum also houses antiques such as sundial by Art Industrial School at Nazareth (1913), the Pelton Wheel used for power generation, a rail engine wheel of the Kundale Valley Light Railway, and the traditional tea rollers.
4. Eravikulam National Park
Eravikulam National Park is a UNESCO world heritage site blessed with a wide variety of wildlife and vegetation. It is also referred to as Rajamalai Wildlife Sanctuary. In 1971 it was acquired by the Karnataka Government and was declared a national park in 1978.
The park is home to the Nilgiri Tahr which is a native animal of the region. Other animals you can spot in the area are elephants, Nilgiri langurs, Atlas moth (largest in the world), and lion-tailed macaque. Another prominent attraction is the Neelakurinji flowers, which bloom only once in 12 years at the Anamudi Peak.
5. Wonder Valley Adventure and Amusement Park
Situated at Anachal, Wonder Valley Adventure and Amusement Park is among the most fun-filled places to visit in Munnar. Nestled in the lap of nature, this eco-friendly park offers a thrilling experience to the visitors.
You can enjoy activities like rock climbing, hiking along rainforest trails, trekking, Zip lining, Bungee jumping, nature walks, and splashing in natural waterfalls. It is the ultimate adventure sports hub in Munnar with exciting activities for visitors of all ages.
What to do in Munnar
Munnar is a nature lover's haven nestled amidst the Western Ghats of Kerala. The pristine surroundings offer astounding views which can be enjoyed by trekking up to the several vantage points in the area. The quaint town is a paradise for nature photographers, and even you can capture a multitude of Insta-worthy clicks against the breathtaking backdrops.
Adventure enthusiasts can have their share of excitement too. There are options to enjoy jeep safari, trekking, wildlife tours, nature walks, and other adventure sports. Zip lining through the forest, night camping in the wild at Top Station, bamboo rafting at the Periyar Tiger Reserve, Mountain cycling are some must-try activities in Munnar.
You can book guided tours of tea plantations and try your hand at tea leaves plucking. The famous tea museum is the best place to gather loads of information about the most famous beverage across the world. You can buy high-quality flavored tea at Kanan Devan Hills Plantations.
The Munnar market is lined with small shops selling coffee, spices, tea, aromatic oils, handicrafts, wood décor made of natural wood, and fabrics dyed with organic colors. Aranya Naturals is the one-stop-shop for ethnic print sarees, shawls, fabrics, dress materials, and scarves. You can pick wooden artifacts at Mattupetty Dam Market and souvenirs at Marakkar Shopping Centre.
Enjoy the conventional Kerala cuisine with a dash of coconut in almost all dishes. The staple food of this region is Idli, Vada, Dosa, Sambhar, and a wide variety of fish. A classic platter has Kerala style Malabar parotta and rice served with an assortment of fish and meat preparations. Cardamom tea and Filter coffee are popular beverages throughout the town.
Remember to pamper yourself with a revitalizing ayurvedic spa and massage therapy before you leave the town. There are several lavish and traditional massage centers to fit all budgets. Taking a relaxing massage will de-stress your mind and relax your body.
About Mysore
Renowned for its art, culture, and architecture, Mysore is the elegant 'City of Palaces'. Located at the foot of Chamundi Hills, there are several places to visit in Mysore for each and every kind of traveller. Being the third-largest city in the state, it is gradually developing as a commercial hub for the Indian IT industry.
Retaining its cultural heritage, Mysore still has several acclaimed schools offering deep learning and practice of the traditional Ashtanga Vinyasa Yoga. The city has become a popular yoga tourism hub in South India.
Mysore to Munnar road trip offered by Mysore Wheels is a journey from the cacophony of the city to tranquility. It will be a soul-soothing experience and you will make memories to last for a lifetime.
---
Book a Mysore to Munnar car rental and explore everything that this beautiful hill station has to offer. When you rent a car with Mysore Wheels, you can be sure of a top quality rental vehicle from our premium fleet. Accessing the perfect vehicle for your visit couldn't be any easier.
Mysore Car Rentals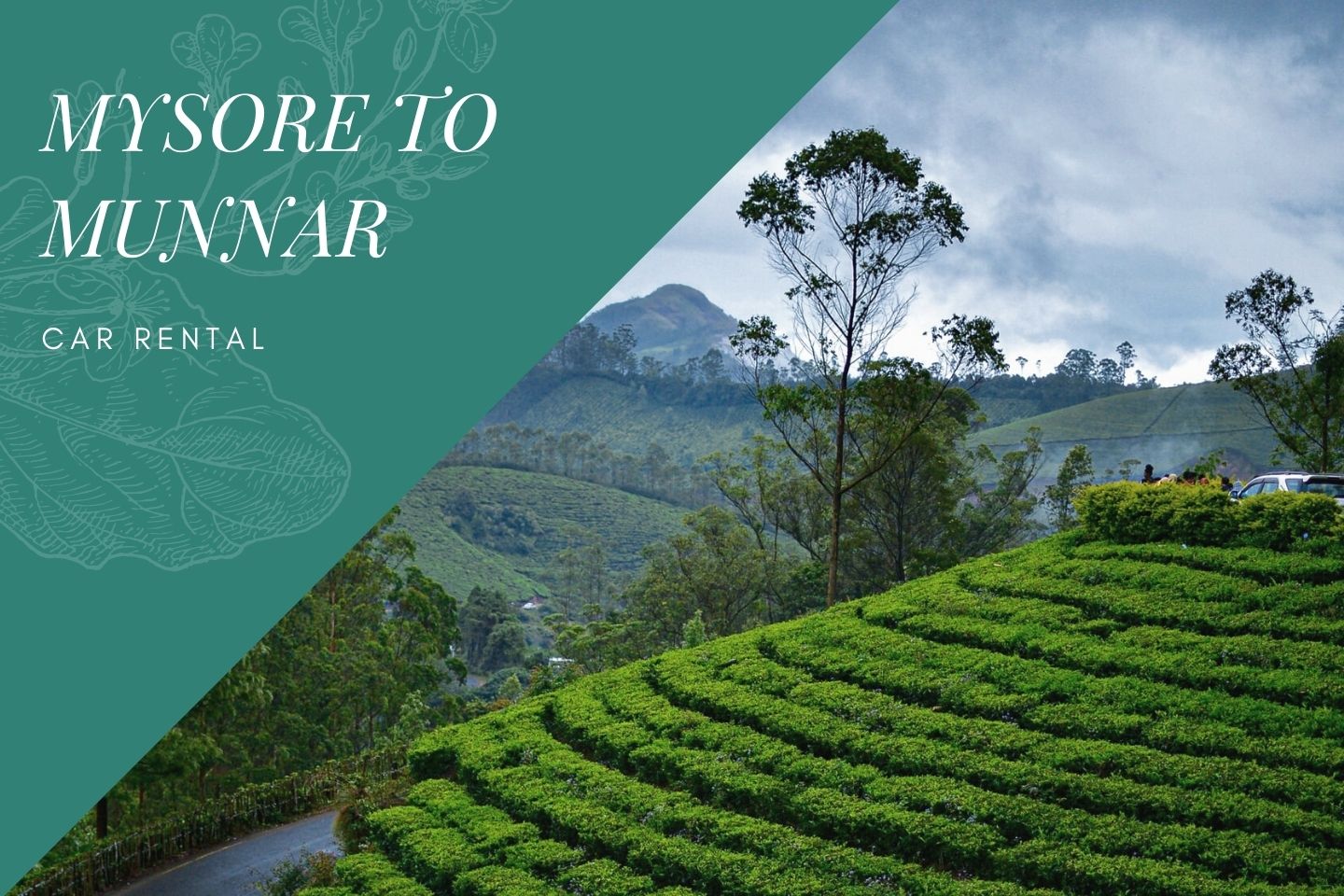 Rating
Brand Name
Route
Mysore to Munnar Car Rental